Systems Glycobiology Consortium (SysGlyco)
The aim of the Systems Glycobiology Consortium is to develop an open platform for systems glycobiology research, which entails not only glycosylation (glycan biosynthesis) but also signalling pathways, genetic interactions, etc. Specifically, the consortium will collect and provide the following:
A database of comprehensive datasets to contribute to systems analysis

glycomics, genomics, transcriptomics
kinetics parameters

A database of models for simulation of glycan-related metabolic and signaling pathways (linked to major biomodel repositories)
A repository of software modules for simulation of these models
An online simulation system (such as GlycoSim) to utilize the above and allow any biologist to perform simulations based on their cellular system, glycogenes, and/or datasets of choice.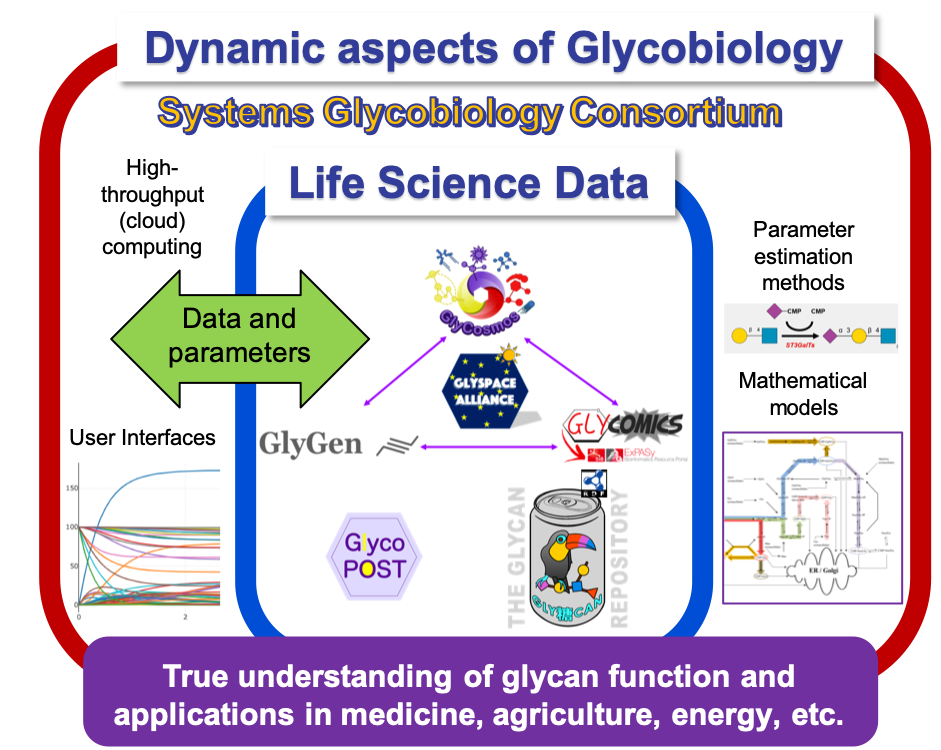 Steering Committee
Kiyoko F. Aoki-Kinoshita, Soka University, Japan
Susumu Goto, DBCLS, Japan
Cleo Kontaravdi, Imperial College London, UK
Nathan Lewis, Univ. of California San Diego, USA
Sriram Neelamegham, SUNY Buffalo, USA
Current Members
Kiyohiko Angata, AIST, Japan
Kazuhiro Aoki, University of Georgia, USA
Michael Betenbaugh, Johns Hopkins Univ., USA
Matthew Campbell, Griffith Univ., Australia
Gavin Davey, Trinity College Dublin, Ireland
Morihisa Fujita, Jiangnan Univ., China
Stuart Haslam, Imperial College London, UK
Hiren Joshi, Univ. of Copenhagen, Denmark
Niclas Karlsson, Univ. of Gothenburg, Sweden
Yasuhiko Kizuka, Gifu University, Japan
Frederick J. Krambeck, Johns Hopkins Univ., USA
Frederique Lisacek, Swiss Institute of Bioinformatics
Andrew McDonald, Trinity College Dublin, Ireland
Yoshiki Narimatsu, Univ. of Copenhagen, Denmark
Mariko Okada, Osaka Univ., Japan
Tetsuya Okajima, Nagoya Univ., Japan
Tadashi Suzuki, RIKEN, Japan
Iain Wilson, University of Natural Resources and Life Sciences Vienna, Austria
Scientific Advisors
Shoko Nishihara, Soka University, Japan
Nicki Packer, Macquarie University, Australia
Google Groups
Join us if you would like to contribute! Please check the SysGlyco Google Groups page.